What Size do I Need?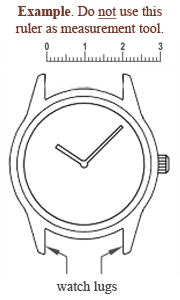 What size watchband do I need?

The easiest way to find out what size watchband you need is to check whether the size is indicated on the inside of your current watchband. If this is not the case, you can measure the distance between the lugs of your watch with a venier scale or a ruler in millimeters.

The lug width is determined by the distance (in millimeters) between the lugs of your watch (the horns on the watch case between which the band is fitted).

In almost all cases, this is an even number. Watchbands with an uneven lug width (19, 21 mm) are rare. We advise you never to fit a watchband smaller than the lug width of your watch. It will not look good and even more important, it may increase the risk of losing your watch.

Watchbands.co.uk has watchbands in all sizes. We offer a great variety of watchbands - you can simply use the filter to the upper left of the the homepage to make a selection of the bands you might be interested in.
There are no available products under this category.