F.A.Q.
Most questions have been asked before. Please find the answer to these questions below. If your question is not answered, please do not hesitate to contact us by email or phone.
Which lug width do I need?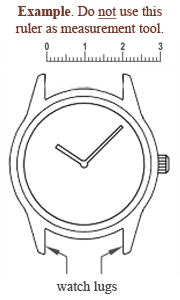 Very often, the width is indicated on the backside of your current watchband. If this is not the case, you can simply measure it with a ruler. The lug width is the distance between the watch lugs in millimeters.
How do I measure the length of the watch strap?
Again, the easiest way is simply to measure the length of your current strap. Another way is to measure the size of your wrist and deduct the height of your watch (from lug to lug). The buckle is not included.
Why do I reveive free pushpins with my watchband?
Pushpins are subject to wear and tear. Exchanging not only your watchband but also the pushpins, might lower the risk of losing your watch. We provide you with first class pushpins made from stainless steel.
Can I order a watchband for my (brand) watch?
We offer a growing choice of replacement watchstraps for a variety of watchbrands. Moreover, the straps of all our brands have straight lugs. If your watch needs a strap with a straight lug, you can choose any strap you like in the right size from our shop.
How about warranty?
Our products are 100% original. Watchbands.co.uk is official dealer of all the brands we offer. Accordingly, you get full suppliers warranty on any product you buy from our shop. Your ordernumber or orderconfirmation you reveived by email is your proof of warranty.
May my watchband get wet?
Whether or not your watch band may get wet depends on the material and the processing of the strap. If a leather strap is waterresistant, this will be indicated on the backside of the strap. Furthermore, you find this information in the chart of each strap on our website. Watch bands that are not waterresitant can stand a few water drops while washing your hands or during light rain, but should not be worn under the shower or when swimming. If you wear your watch during (water-) sports, we advise you to choose a strap from our category 'rubber and sport' or 'NATO/ZULU'. These straps are made from rubber, silicone or nylon and therefore perfect for use in wet circumstances or during sport activities. Please do not forget to check the water resistance of your watch, as well!
How do I clean a rubber or silicone strap?
You can clean a rubber or silicone strap the same way you clean a strap from leather or steel: with a little bit of soapy water and a soft towel. Rubber and silicne straps should not make contact with oils or salts.