RIOS1931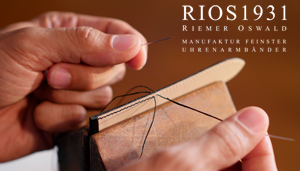 Rios1931 watch straps are made in Germany - a familiy business founded in 1931 by Oswald Riemer. Rios1931 has the highest quality standards.

Rios1931 watch straps are mostly made and finished manually. Natural and environmentally friendly production methods are applied whereever possible. Depending on the finish, the production of a Rios1931 watch strap takes at least 50 (sometimes even 172!) steps.

Watchbands.co.uk is an official selling point of Rios1931 watch straps, enabling us to give you full guarantee on the quality of the straps. All our straps are sold directly from our own stock. If you are not sure which size you need, please see our page: What size do I need?.